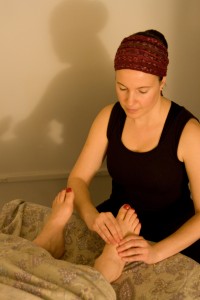 Massage Therapy, $80/hr
Experience one of Virginia's signature sessions – each one unique and customized to your individual needs. This is massage therapy for the whole person, focused on relaxing the nervous system, allowing you to release deeply held patterns of tension.
Private Yoga Instruction, $80/hr
New to yoga? Finding the prospect of sweating it out at the gym a little intimidating? Have specific concerns that a group setting can't address?
Private instruction allows you to get the most out of your yoga practice. There's no need to feel self-conscious. And you can ask as many questions as you like.
On-Site Services (Rates vary)
 Presentations of varying lengths on topics related to stress reduction and relaxation.
Classes and experiential workshops teaching stress reduction and relaxation techniques.
Chair massages for employee appreciation or special events.
All services by appointment only.