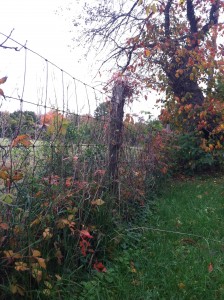 I've been re-reading Anne Katherine's book Boundaries: Where You End and I Begin. Interpersonal boundaries, be they physical or emotional, when clearly communicated, can eliminate a great deal of confusion. It is, as they say, true that "good fences make good neighbors."
But what about when boundaries are lacking? Without some way of determining who we allow to get close, and how close, chaos abounds. Other people can do and say what they like if we don't believe we have the power to set limits. Gradually, we might come to feel like our lives don't belong to us.
At the core of building healthy boundaries is discovering the difference between "me" and "not me."
Sounds simple enough, right?
But is it really? Many of us have had the ideas and "shoulds" of parents and other adult figures thrust upon us at an early age. From that perspective sorting out what's ours and what's theirs may not be such an easy proposition.
Building (or repairing) our fences necessitates important, and sometimes uncomfortable, conversations. The good news is that having such conversations can build true intimacy. If we are equal to the challenge, we can negotiate our needs in personal and professional relationships to allow for more satisfying interactions.
Photo by Virginia Olson  © 2012