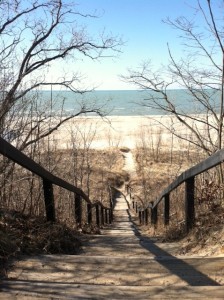 In the Bhagavad Gita, it says that we are entitled to our work but not the fruits of our labors. This means that it's unwise to be attached to outcomes or results. Sometimes we fail, despite our best efforts. In other words, if we take an action with a specific outcome in mind, and then that outcome does not occur, we may feel that we have failed, and then attach to the failure all of the emotional baggage that culturally goes with it. As an alternative, the Gita teaches non-attachment.
In our culture, we're not encouraged to let go. We're encouraged to strive. To master our circumstances. To never give up. Now, I'm not advocating giving up, but there is a difference between giving up and letting go. Letting go is a surrender, not a defeat. Letting go is a mindset that says, "I've done all that I can do, and I feel good about my role." It's not outcome-oriented.
Attachment to achievement is one of the factors that leads to burn-out so often in the service-oriented professions. I think of the teachers and counselors and other people I know in the helping professions, and I see many of them who care so much that they are drained by the lack of results. It can be hard to remember that everyone has free will. And that, even given opportunities to change, some people have not aligned themselves or harnessed the necessary elements to create that change.
There's nothing wrong with desiring certain outcomes in life, or working toward goals. But if we become so invested in the achievement of a particular goal or attached to a certain outcome that we make the process and the experience (the journey) less important, that's when we create additional suffering for ourselves (and often others, as well).
Recommended Reading: The Little Book of Letting Go, by Hugh Prather
Photo by Virginia Olson © 2012