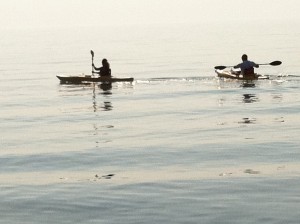 With all the hot weather we've had recently, I've been spending a lot of time at Lake Michigan. It's an excellent place to watch people doing, well, the things people do. On a recent visit, I watched a guy getting into a kayak.
Now, if you've ever kayaked, you know that it's much easier to get into the kayak from relatively shallow water. (I used to do quite a bit of kayaking, and I did share this suggestion with him, by the way.) But rather than do that, he walked out into the lake with the kayak until the water was about 4-5 feet deep, and then proceeded to spend about 15-20 minutes attempting to get into it.
As I watched, I couldn't help but be reminded of a turtle I saw a few weeks ago by the St. Joseph River, trying valiantly to climb onto a log to sun itself.
After more than a few unsuccessful attempts, the man, like the turtle, eventually succeeded in climbing into the kayak.
I suppose persistence pays off.
But so does learning from the experience of others, which can save you a whole lot of time and effort. (And sometimes, maybe even a little dignity.)
Even still, there are some times when we have to learn through our own experiences. It can be a slower, and perhaps at times more painful process. But the lessons we learn that way are not easily forgotten.
Photo by Virginia Olson © 2012